Ziele:
Unmittelbar: Förderung der touristischen Elektromobilität entlang der Deutschen Alpenstraße
Weiterhin:
Entwicklung des Leuchtturmprojektes Emobile Deutsche Alpenstraße
Analyse des Bestandes und Aufdeckung von Lücken in der Ladeinfrastruktur
Information und Bewusstseinsbildung zum Thema Elektromobilität im Tourismus
Schaffung von Anreizen zum Ausbau von Ladeinfrastruktur im öffentlichen, gewerblichen und privaten Bereich
Entwicklung von Vermarktungskonzepten für die touristische Elektromobilität
Beratung und Unterstützung bei technischen Fragestellungen
Vernetzung, Wissenstransfer und Netzwerkbildung
Motivation zur Entwicklung individueller Mobilitätslösungen
Nutzung der Elektromobilität als Treiber einer nachhaltigen touristischen Ausrichtung
Laufzeit: Juli 2019 bis Dezember 2021
Projektdurchführung: Alpin Consult
Projektträger: Bayerische Fernwege e.V.
Förderung: Bayerisches Staatsministerium für Wirtschaft, Landesentwicklung und Energie
Projekt-Zielgruppe/Teilnehmer: Tourismusregionen, touristische Betriebe und Unternehmen im Bereich der Mobilität und Energieversorgung entlang der Deutschen Alpenstraße und darüber hinaus
​
Bereits in den vergangenen Jahren verzeichnete die Deutsche Alpenstraße mit ihren Tourismusregionen vom Bodensee bis Berchtesgaden eine steigende Beliebtheit. Deshalb widmen wir uns anlässlich des vom Bayerischen Staatsministerium für Wirtschaft, Landesentwicklung und Energie unterstützten Projektes "Emobilisierung der Deutschen Alpenstraße" der Frage, wie die Deutsche Alpenstraße ihren eigenen Beitrag zu einem zukunftsfähigen und nachhaltigen Alpentourismus beitragen kann.
Unser Ziel ist, die Deutsche Alpenstraße mit ihren bayerischen Originalen umweltfreundlich erlebbar machen. Mobilität, Innovation und Nachhaltigkeit entlang der ältesten Ferienstraße Deutschlands sind nur einige wenige Schlagworte, wofür wir angetreten sind. Wir wollen ein touristisches Leitprodukt entwickeln, welches Leuchtturm- und Vorzeigecharakter hat.
Nachfolgend finden Sie in chronologischer Reihenfolge unsere Meilensteine und Projektergebnisse:
Projektphase 1
Juli 2021 – April 2020: Umsetzungsstudie "Elektromobilität auf der Deutschen Alpenstraße – von der Idee zu einem buchbaren Leitprodukt"
Die Ausschreibung und Vergabe einer Umsetzungsstudie erfolgte direkt nach Projektbeginn im Juli 2019. Auf der Mitgliedsversammlung des Bayerischen Fernwege e.V. konnten wir bereits im Dezember 2019 gemeinsam mit den beauftragten Dienstleistern dwif und PTV Transport Consult GmbH die Ergebnisse der Umsetzungsstudie zur E-Alpenstraße präsentiert: Sowohl die Ladeinfrastruktur als auch die touristischen Angebote entlang unserer 484 Kilometer langen Ferienstraße wurden analysiert. Weiterhin wurde das Nachfragepotenzial der theoretischen Produktidee der emobilen Deutschen Alpenstraße ermittelt.
Kurz und knapp können wir sagen: Wir verfügen bereits über eine sehr gute Basis. Demnach macht es Sinn, unsere Idee der emobilen Deutschen Alpenstraße weiter in die Umsetzung zu bringen!
Projektphase 2
Mai – Dezember 2020: Aufwändige Vorarbeiten für das Leitprodukt
Nach Antragstellung und Bewilligung der zweiten Projektphase arbeiteten wir die im Bedarfskonzept ermittelten Aktivitäten weiter aus. Dies ging von der Schaffung von Anreizen für Gemeinden und Betriebe für deren Optimierung der Ladeinfrastruktur, der tagesaktuellen Informationsaufbereitung von Lademöglichkeiten entlang der Deutschen Alpenstraße bis hin zur Entwicklung von Konzepten für die Bereitstellung von E-Carsharing-Möglichkeiten und buchbaren emobilen Reiseangeboten und Pauschalen.
Unter anderem entstanden in dieser Zeit auch eine erste Version dieser B2B Seite, die Sie nun in aktualisierter Form lesen. Weiterhin wurde viel in einzelne Gespräche mit den touristischen Leistungsträgern wie Hoteliers und Destinationen investiert, aber auch wertvolle Netzwerkarbeit mit z.B. der Vernetzung lokaler Energieversorger mit regionsansässigen Hotels geleistet.
Die Einbettung des Ladeatlas Bayern war ein wichtiger Meilenstein in der B2C Außenkommunikation – dadurch können Besucher unserer Webseite minutenaktuell frei verfügbare Ladestationen entlang der gesamten Strecke abrufen.
Als "Work-in-Progress" begleitete uns das gesamte Jahr 2020 das Thema E-Carsharing und Verleih. Es wurde eine Vielzahl an Gesprächen mit möglichen Projektpartnern geführt, allerdings erschwerten die pandemiebedingten Umstände einen unmittelbaren Beginn einer konkreteren Zusammenarbeit. Was daraus, bis Stand heute geworden ist, sehen Sie hier.
In 2020 erfolgte die erste konkrete Vernetzung mit Bayern Innovativ und eine erste gemeinsame Aktivität, der Podcast zur Emobilen Deutschen Alpenstraße. Weitere Ergebnisse der Kooperation sehen Sie im Folgejahr 2021.
In 2020 entstanden weiterhin diverse Kooperationen im kommunikativen Bereich, so zum Beispiel mit Emobilhotels, aber auch einem Beitrag in TN Deutschland
Ein wichtiger Meilenstein für die Außenkommunikation war das Fotoshooting im Herbst 2020 mit spezifischen "emobilen" Motiven eines Elektrofahrzeugs an der Deutschen Alpenstraße. Hier können Sie eine Bildauswahl kostenfrei herunterladen.
Ganz zu Ende des Jahres entstand der Großteil der Broschüre "Elektromobilität im Tourismus am Beispiel der Deutschen Alpenstraße, welche im Jahr 2021 finalisiert wurde.
Januar – Dezember 2021: Ergebnisse sichtbar machen und kommunizieren
In diesem Jahr wird die Arbeit der beiden Vorjahre sichtbar – nachfolgend finden Sie eine Auflistung der wichtigsten umgesetzten Maßnahmen:
Diese Broschüre ist ein Angebot für Tourismusbetriebe und Tourismusregionen. Sie entstand anlässlich des vom Bayerischen Staatsministerium für Wirtschaft, Landesentwicklung und Energie geförderten Projektes "Emobilisierung der Deutschen Alpenstraße" und wurde in Zusammenarbeit mit der Kompetenzstelle Elektromobilität von Bayern Innovativ erstellt. Sie soll Destinationen, Hoteliers, Gastronomen und alle interessierte touristische Leistungsträger unterstützen und gibt wertvolle Tipps zu sämtlichen Fragen rund um die Elektromobilität, u.a.:
Warum profitieren Gastbetriebe und Tourismusregionen von der Elektromobilität?
Was ist für die Implementierung der Elektromobilität wichtig zu wissen?
Wie anfangen: Ladeanlagen, Kostenrahmen, Fördermöglichkeiten, Rechtliches
Welche Best Practices gibt es, von wem kann man lernen?
Nicht zuletzt finden Sie darin eine Checkliste und FAQs sowie eine Übersicht über Fördermöglichkeiten und wertvolle Adressen und Kontakte zu Beratungsstellen.
Gerne senden wir Ihnen die Broschüre in größerer Stückzahl zu, welche an Ihre Tourismusbetriebe und Tourismusverantwortlichen verteilt werden können. Bitte teilen Sie uns dies per Email info@deutsche-alpenstrasse.de mit.
Der Flyer "Elektrisch unterwegs auf der Deutschen Alpenstraße" richtet sich an Gäste, Urlauber und Besucher. Er beinhaltet Tourentipps und Informationen für eine emobile Reise auf der Deutschen Alpenstraße. Sie finden darin u.a.:
Auswahl von Sehenswürdigkeiten im Kontext von Energiegewinnung, Nachhaltigkeit und Umweltschutz
Reisetipps und Reiseideen
Übersicht emobiler Gastgeber
Informationen über verfügbare Ladestationen
Kontaktangaben zu Verleihangeboten
Buchbare Pauschale via DER Touristik
Sämtliche Informationen des Flyers sind auch auf unserer Internetseite abrufbar und per QR-Code aus dem Flyer direkt zugänglich.
Gerne können Sie den Flyer in größerer Stückzahl bei uns bestellen: Bitte teilen Sie uns die gewünschte Anzahl per E-Mail an office@alpin-consult.de mit oder nutzen Sie unser Bestellformular online im B2B-Bereich.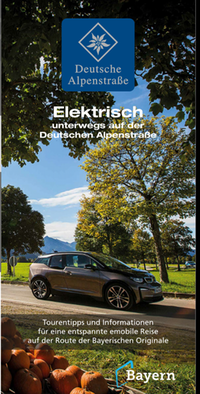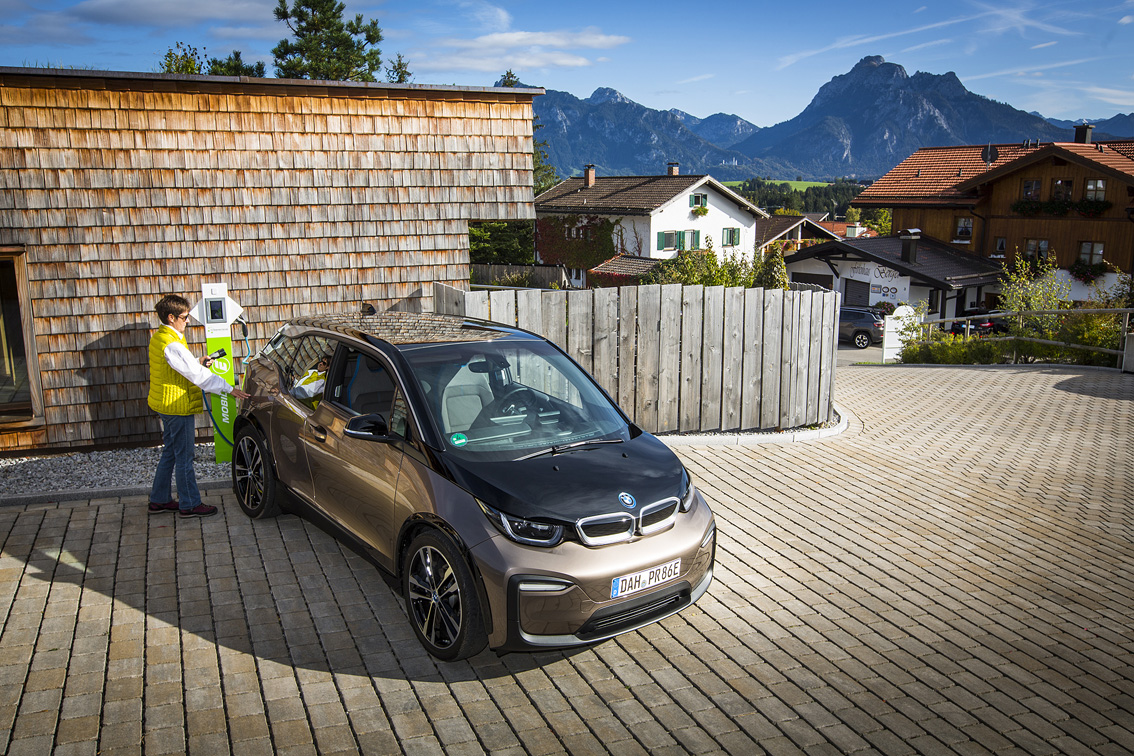 Anreise per Bahn oder ÖPNV und komfortabler Umstieg in ein Elektro- oder Hybridfahrzeug, ist das möglich? Wir geben zu: Aktuell ist das aufgrund limitierter Verleih-Infrastrukturen immer noch herausfordernd und nur lokal umsetzbar (z.B. im Naturpark Ammergauer Alpen). Wir haben jedoch ein emobiles Reiseangebot mit individuellen Kombinationsmöglichkeiten von Bahn, Fahrzeug und Hotels gemeinsam mit dem Reiseveranstalter DERTOUR entwickelt.
Es gibt zwei verschiedene Touren, die online und im Reisebüro buchbar sind:
Die neue Wanderausstellung Elektromobilität Bayern bietet einen aktuellen Blick in die Welt der elektrischen und zukünftigen Mobilität. Sieben Module präsentieren anschaulich die wichtigsten Themenbereiche aus der Nutzerperspektive - denn E-Mobilität ist nicht nur VON Menschen, sondern vor allem FÜR Menschen gemacht!
Die sieben Exponate adressieren die verschiedenen Nutzer und Akteure der Elektromobilität: vom Familienvater, über die Bürgermeisterin, Jugendlichen und bis hin zum Großvater. Die ausgewählten Themen thematisieren die verschiedenen Mythen der Elektromobilität und führen zu einer erfrischenden, emotionalen neuen Sicht, die zum Nachdenken einlädt.
Eine digitale Ausstellung ergänzt die Exponate und bietet tiefere Einblicke in die jeweiligen Themen. Quizze und andere Spiele laden die Besucher ein, ihr Wissen spielerisch zu überprüfen. Begleitend dazu werden die Inhalte in einem gedruckten Magazin vor Ort dargestellt.
Unsere emobile Deutsche Alpenstraße ist mit dem Modul 3 "Hab Spaß beim Fahren" ein Teil dieser Wanderausstellung. Mehr Informationen finden Sie hier.
Auf der IAA Mobility in München waren wir als Förderprojekt des Bayerischen Staatsministeriums für Wirtschaft, Landesentwicklung und Energie gemeinsam mit Bayern Innovativ gleich zweimal vertreten und informierten über die neu geschaffenen Services und den Schwerpunkt "ökologische touristische Mobilität" sowie die Vereinbarkeit von Freizeitspaß, Genuss und Umweltschutz beim Reisen.
Im Summit Bereich auf dem Münchner Messegelände war die emobile Deutsche Alpenstraße Teil des Bayerischen Gemeinschaftsstands "Die Zukunft der Mobilität gemeinsam gestalten". Der zweite Teil der IAA fand in der Münchner Innenstadt im Open Space statt. Hier lautete das Standmotto "Open minded to new visions" und widmete sich der Frage nach "Design als Zukunftsdisziplin und Erfolgsfaktor der gesamten Mobilitätsbranche". Dazu startete die bereits erwähnte Wanderausstellung zur Elektromobilität mit der emobilen Deutschen Alpenstraße als Best Practice zum Anfassen.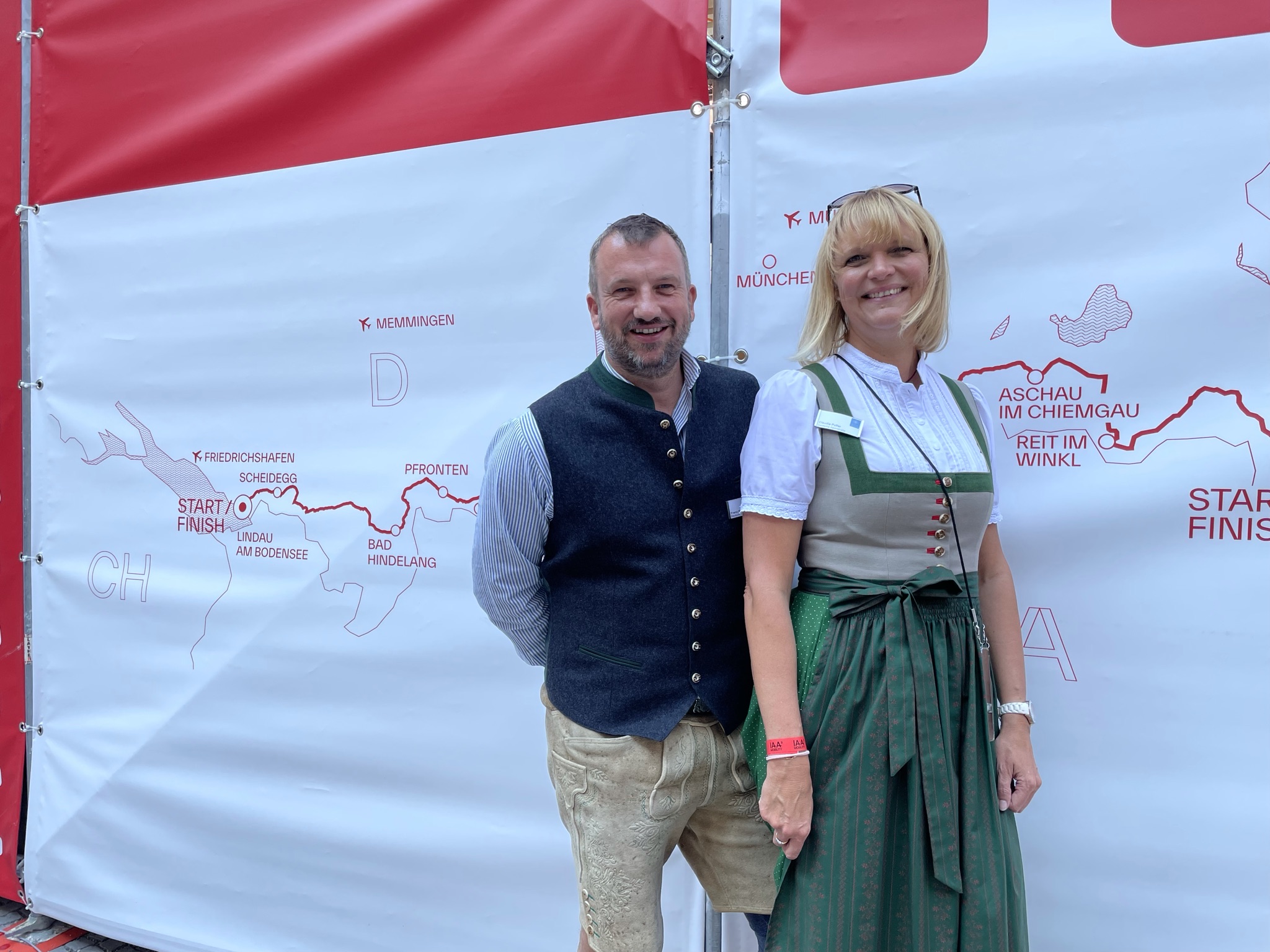 Nicht zuletzt sei das für innovative Projekte dieser Art aufwändige Projektmanagement zu erwähnen, welches in den oben angeführten einzelnen Maßnahmen zwar nicht direkt und unmittelbar sichtbar ist, jedoch insbesondere in der Innenkommunikation, aber auch im Scouting und in der Umsetzung aller angestoßenen Aktivitäten über die gesamte Projektlaufzeit hinweg unabdingbar für das Erreichen der Projektziele war.
Mit im Kern-Team der emobilen Deutschen Alpenstraße waren:
Franz Reil, Geschäftsstellenleiter des Bayerischen Fernwege e.V. und Inhaber der Agentur Alpin Consult
Tanja Brunnhuber, externe Projektleiterin und Inhaberin der Agentur destination to market (www.destinationtomarket.de)
Claudia Pulfer, Projektassistenz von Alpin Consult
Ein großer Dank gilt der Projekt-Steuerungsgruppe mit Bernhard Joachim (Allgäu GmbH), Oswald Pehel (Tourismus Oberbayern München e.V.), Brita Hohenreiter (Referat für Tourismus und Kultur Bad Tölz), Stefan Fredlmeier (Füssen Tourismus), Miriam Hördegen (ADAC Südbayern e.V.) und die VertreterInnen des Bayerischen Staatsministeriums für Wirtschaft, Landesentwicklung und Energie.
Weiterhin möchten wir einen großen Dank für den intensiven gemeinsamen Austausch in den vergangen Jahren an alle beteiligten Destinationen, touristische Leistungsträger, Institutionen, Vereine, Verbände, Projekt- und Sparringpartner aussprechen.
Die Zusammenfassung der Ergebnisse der Umsetzungsstudie zum Download Umsetzungsstudie E-Alpenstraße1.24 MB
Bildmaterial zu Elektromobilität entlang der Deutschen Alpenstraße finden Sie im Pressebereich.
Wir teilen unser Wissen mit Ihnen. Fragen Sie uns, wir freuen uns von Ihnen zu hören! Sie erreichen das Projektteam wie folgt:
Tanja Brunnhuber
Projektleitung Emobile Deutsche Alpenstraße
Telefon 0160-279 0986,
E-Mail emobil@alpin-consult.de
Franz Reil
Geschäftsstellenleiter des Bayerischen Fernwege e.V.
Telefon 08025 9244952
E-Mail info@alpin-consult.de