Wallgau - Lenggries 72 kilometer
Bavaria is particularly popular for holidays because of its many lakes. This part of the route runs through the Tölzer Land, beside Lake Walchensee, across Kesselberg Pass (great for motorcyclists) and on to Lake Kochelsee. After Benediktbeuern with its abbey, Bad Heilbrunn, Bad Tölz and Lenggries, the route climbs to the Sylvenstein reservoir.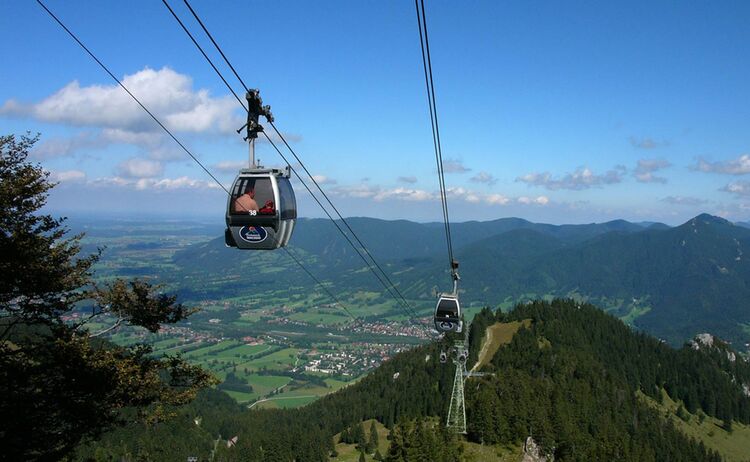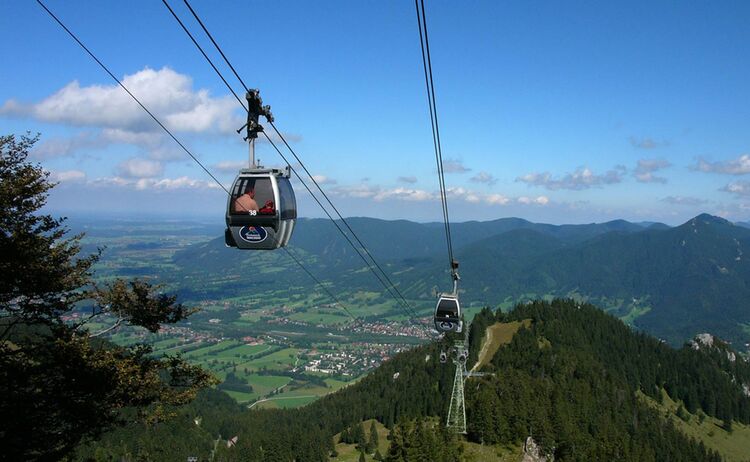 Lake Walchensee is a dream destination for anyone who loves water sports. If you prefer to stay on dry land, we recommend a walk or drive up Mount Herzogstand to take in the lovely views. In good weather you can see as far as Munich and the main Alpine ridge.
Over nine km / six miles with 14 turns and an average incline of four percent, the Kesselberg road overcomes the 240 m / 780 ft difference between lake Walchensee and lake Kochelsee. After the completion of the road as we know it today, there were in 1905 and 1907 road races in which both cars and motorcycles participated. The pass's broad curves allowed high speeds for that time. Today, the road is still a beloved destination, especially for bikers. It should be noted that on weekends and public holidays when heading up the pass in the direction of lake Walchensee, overtaking is forbidden and a continuous speed limit of 60 kmph / 37 mph is in force. There are several well-visited vantage points offering views of the Kochel moors, where the late afternoon sun bathes the moorland in a very special light. Experiencing this unique atmosphere helps understand the charm the area must have exerted upon the artists of the 'Blue Rider': Franz Marc, Paul Klee, Gabriele Münter, Wassily Kandinsky and Alexej von Jawlensky - to whom the Franz Marc Museum in Kochel a. See is dedicated. Over 150 pieces from the collection of Franz Marc and other works of art of the 20th century can be seen there.
A hydroelectric power station uses the height difference between the two lakes to generate electricity; a modern visitor centre gives us a deep insight into the power plant built in 1924 by Oscar von Miller.
Not long after leaving Kochel a. See we see the impressive onion shaped towers of the oldest monastery in Upper Bavaria, Benediktbeuren, with its baroque Basilica of St. Benedict. This monastery village is considered the spiritual and cultural centre for the district of Bad Tölz. We continue through Bichl and Bad Heilbrunn, villages with a distinctly herbal theme, towards Bad Tölz.
A picture-book journey
By clicking on "Accept", you consent to the data processing and confirm that you have taken note of the privacy statement of Google Maps.
Deutsche Alpenstrasse
By clicking on "Accept", you consent to the data processing and confirm that you have taken note of the privacy statement of Google Maps.