Mount Zugspitze and the Karwendel Alps
Halblech - Wallgau 71 kilometer
The Ammergau Alps Nature Park, Werdenfelser Land and Karwendel mountains – these holiday regions are firm favourites in Bavaria. From the Allgäu, this panoramic tour crosses the Echelsbach bridge to the Zugspitze region. Stop here to explore historical Oberammergau, Garmisch-Partenkirchen, Krün and Wallgau, or visit Ettal Abbey and Linderhof Palace.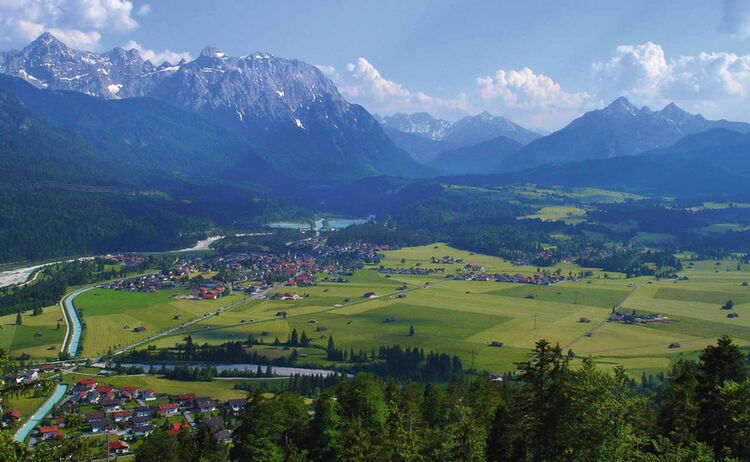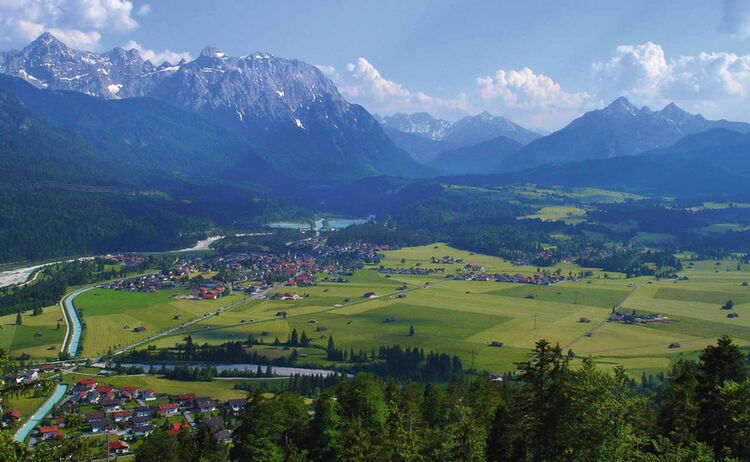 The German Alpine Road now crosses from the Allgäu region into Upper Bavaria. The Pfaffenwinkel, our initial section of Upper Bavaria, got its name from its numerous Baroque churches and monasteries. Particularly worth seeing is the Welfenmünster in Steingaden - a Premonstratensian (White Canons) monastery, with a beautiful cloister and garden, as well as Dominic Zimmermann's masterpiece the Pilgrimage Church of Wies.
Over the Echelsbacher Bridge comes the Ammergau Alps Nature Park. In Unterammergau there were once more than 50 whetstone makers. In the Wetzsteinmuseum (Whetstone Museum), housed in a realistic replica of a smithy, we learn all about the ancient handicraft of whetstone making. In Oberammergau we can lose ourselves in the heat of a summer's afternoon searching for Christmas items in a shop. On our route is the palace of Linderhof, the smallest of the three Ludwig II palaces in which the king was most often, and the Benedictine monastery of Ettal, with its numerous businesses such as brewery, distillery, open dairy, restaurant and hotel.
Over the Ettaler sattel (Ettal Saddle) we descend a good four kilometres at an incline of 8% down to Oberau and Farchant in 'Werdenfelser Land'. The panorama of the Wetterstein massif with the mountains Alpspitze and Zugspitze accompany us over the next few kilometers with the changing perspectives continuously impressing us. Next, we reach Garmisch-Partenkirchen, where regularly sports history is written. Mittenwald is also worth visiting: influenced by its position on the 'Via Raetia' (a Roman road), it obtained early rights to hold markets. Mittenwald is also internationally famous for its 300 year old tradition of violin making.
We're now cruising again, slowly through the peaceful villages of Krün and Wallgau. On one side the daunting cliffs of the Karwendel mountains rise steeply upwards, on the other side we see the last, and perhaps most beautiful, view of the Wetterstein massif.