Prospektbestellung Deutsche Alpenstraße
Tourbuch Deutsche Alpenstraße
Infobroschüre
Im Tourbuch - Route der bayerischen Originale - finden Sie auf 68 Seiten u. a. eine detailierte Routenbeschreibung, wertvolle Tipps, wichtige Adressen, eine Übersichtskarte, Hotelempfehlungen sowie Camping-/Wohnmobilstellplätze und Freizeittipps.
Routenkarte Deutsche Alpenstraße
Infobroschüre
Die Routenkarte mit Freizeit- und Übernachtungs-Tipps sowie wichtigen Infos - Ihr Reisebegleiter auf der Deutschen Alpenstraße.
Deutsche Alpenstraße elektrisch
Infoflyer
Elektrisch unterweges auf der Deutschen Alpenstraße. Tourentipps und Informationen für eine entspannte emobile Reise auf der Route der Bayerischen Originale.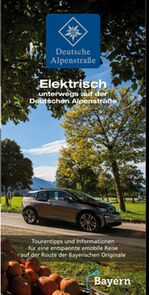 Reiseideen Katalog
Download
Reiseideen entlang der Deutschen Alpenstraße
In diesem Download-Katalog haben wir eine Auswahl an verschiedenen Reiseideen für Ihren ganz persönlichen Roadtrip entlang der Deutschen Alpenstraße zusammengestellt.
Zum Download bitte auf "PDF Vorschau" klicken und auf PC abspeichern oder ausdrucken!
Tourist guide German Alpine Road
Infobroschüre
Tourdescription, hotels and places of interest
The route of the bavarian originals takes you many winding kilometres from Lindau / Lake Constance to Schönau am Königssee. In the english version of the tourist guide you will find on 48 pages all kinds of tips, addresses and a map, as well as camping and motorhome parking spaces.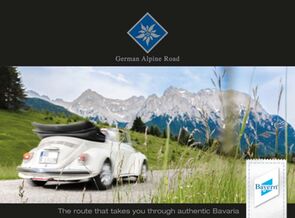 ENGLISH - Route Planner
Infobroschüre
ENGLISH - Route Planner
Route of the Bavarian Experience
ITALIANO - Piccola Guida
Infobroschüre
ITALIANO - Strada Tedesca delle Alpi
Itinerario nella Baviera più autentica
Bad Tölz erleben
Infobroschüre
Reiseführer mit Ausflugszielen Rund um Bad Tölz.
In dieser Broschüre werden Sightseeing-Höhepunkte der Füssener Altstadt sowie die Museen und Kirchen vorgestellt. Entdecken Sie die romantischen Plätze und Winkel Füssens im historischem Zentrum. Lassen Sie es beim Stadtbummel entspannt angehen und erleben Sie den Charme von Bayerns höchstgelegener Stadt.
Flyer zum Thema "Kultur". In diesem Flyer finden Sie alle wichtigen Informationen zu den Kulturhighlights im Jahr 2022. Dazu gehören die Verleihung des Salzburger Stiers, die erste Biennale in Lindau und das Kulturhighlight "Mythos Natur – von Monet bis Warhol".
Bergerlebnis Berchtesgaden
Infobroschüre
Ihre Gastgeber in der Bergerlebnis Berchtesgaden mit über 400 Unterkünften.
---
in den Warenkorb
---
aus dem Warenkorb entfernen
---
Bodensee-Königssee Radweg
Infobroschüre
Parallel zur Deutschen Alpenstraße führt der Bodensee-Königssee Radweg.
In dieser kostenlosen Broschüre finden Sie alle Informationen rund um den Bodensee-Königssee Radweg.
Weitere Infos zum Radweg erhalten Sie auch online unter: http://www.bodensee-koenigssee-radweg.de