Majesteitelijk slot aan de Königssee
Inzell - Schönau am Königssee 36 kilometer
De tocht via de Duitse Alpenroute met auto, camper of motorfiets eindigt in het Berchtesgadener Land. Het landschap en de mensen zullen een blijvende indruk achterlaten. Stops die de moeite waard zijn: een boottocht op de Königssee met uitzicht op de legendarische Watzmann of een wandeltocht door de Weißbachkloof en Wimbachkloof.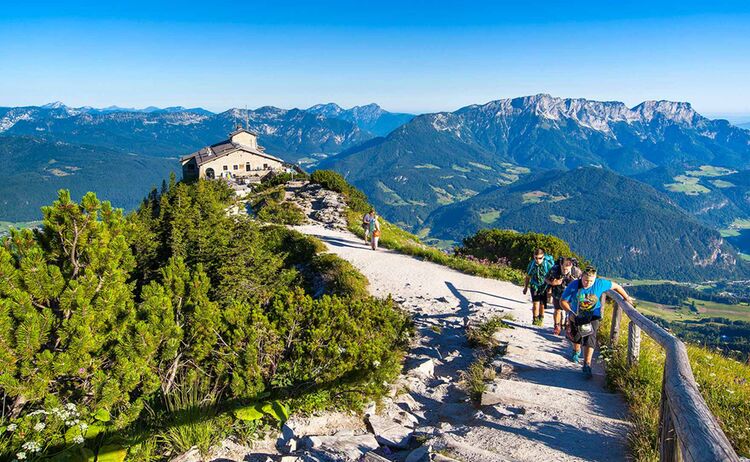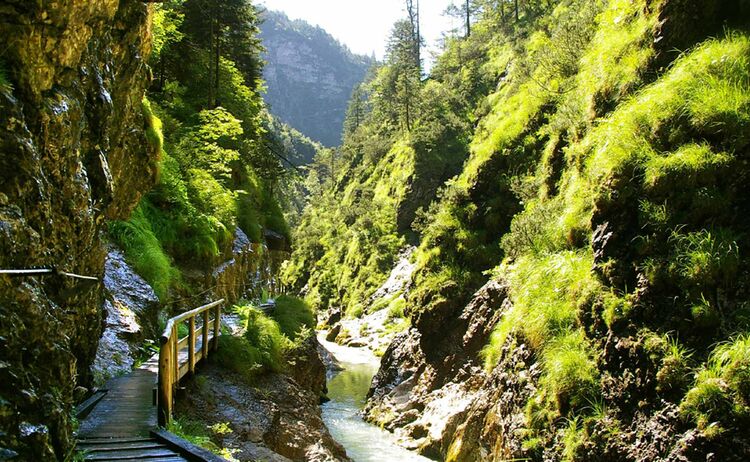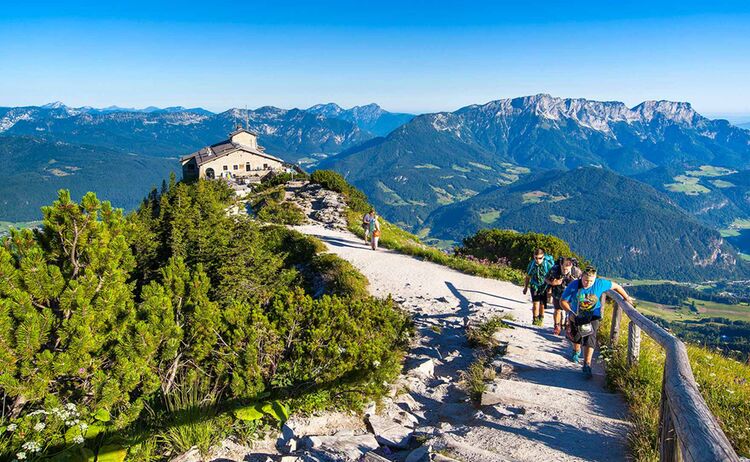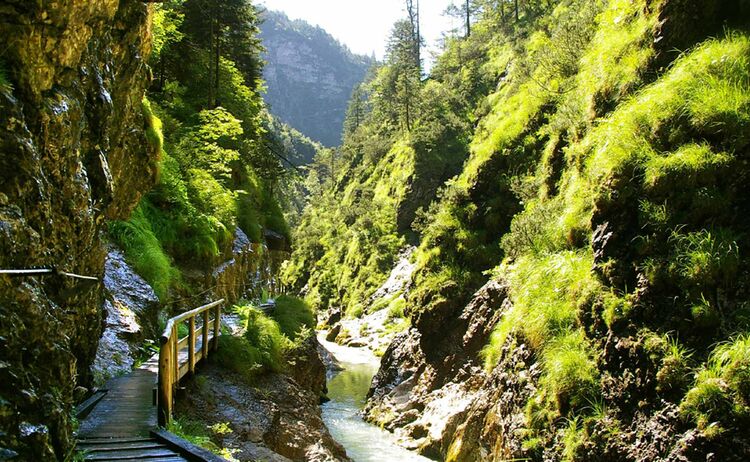 Na Inzell bereikt u het laatste deel van de Duitse Alpenroute, midden in het prachtige landschap van de Berchtesgadener Alpen. Een aanrader tussen Weißbach en Schneizlreuth is een wandeling door de natuur en romantische sfeer van de Weißbachkluft.
Voordat de weg weer richting Ramsau voert, is ook een korte omweg naar Bad Reichenhall beslist de moeite waard. Het Beierse staatsbad was vroeger wereldberoemd vanwege zijn zout- en pekelremedietherapie. Daarna volgt u de route over de 868 meter hoge Schwarzbachwacht. U kunt hiervandaan voor de eerste keer naar de Reiteralpe, de Hochkalter en de Watzmann kijken.
In het dorp Ramsau is een fotostop bij de parochiekerk van St. Sebastian, die in 2012 haar 500-jarig jubileum vierde, verplicht. Rijd langs het brullende water van de Wimbachkloof verder naar Berchtesgaden, waar wij u een bezoek aan het koninklijk kasteel en het historische centrum aanraden. Als u niet direct wilt doorgaan naar de Königssee, kunt u ook over de Rossfeld-Panoramastraat rijden - de hoogst gelegen panoramaweg - daarvandaan genieten van uitzichten tot ver in het Salzburgse landschap. De weg is een tolweg en het hele jaar door begaanbaar. Populaire familieattracties zijn de nabijgelegen bobsleebaan en de zoutmijn.
Aan het eind van de Duitse Alpenroute bereikt u de Königssee. Vanaf hier gaan we met een elektrische boot verder naar het wereldberoemde heiligdom, pelgrimskerk St. Bartholomeus.